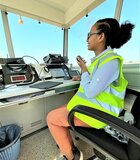 "Volunteerism is about selflessly giving back for the betterment of the society. Any contribution, however small, makes a difference." Meron Tefera
An Air Operations Assistant, Meron Tefera has been a UN Volunteer with UNISFA since February 2021. She joined UNISFA after working for ten years as an air traffic controller at the Addis Ababa Bole International Airport.
Meron always wanted to be a volunteer with the UN, she did not give up applying even after several failed attempts. So, when the opportunity to serve as a UN volunteer at UNISFA came knocking, it was very easy decision to make. She joined UNISFA in February this year.
Her busy schedule includes supervising flight following activities and three staff, overseeing tasking orders, releasing flight schedules, documentation, briefing flight crews before takeoff, among other duties.
Her initial experience was tough. She had to quarantine for two weeks, during which no one came to see her. "It was very lonely, but my optimism kept me sane." It did not get easier after quarantine because most staff were away from the mission, so she had hit the road running and to learn very quickly.
Every day has been a great learning experience. I love working in a multicultural environment which gives me an opportunity to learn from different people and different experiences. I am learning every single day. My biggest achievement has been creating a team and moving into our new offices.
Outside work she is learning to play the guitar and tennis. She encourages everyone to do small acts of kindness because each act of kindness can impact someone's life.