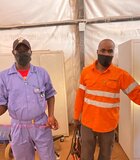 "It is the daily selfless acts from the heart that impact people's life. These small acts can easily spread to the whole community." Paul Waithaka.
Ten months to the end of his four-year tenure as a UN Volunteer with UNISFA, Paul Waithaka, reflects on his journey, which started in 2018. He has a lot to be grateful for: the rich experience, the friends he has made, the bonds that will last a lifetime and the professional growth.
"Working in a multicultural environment presents a great opportunity for new experiences that one should never underestimate. I encourage anyone who gets an opportunity to serve as a UN Volunteer, to embrace the opportunity and be open to learn."
Prior to joining UNISFA as transport assistant, Paul worked in the same capacity with UNHCR in the Kakuma refugee camp in Kenya. He is proud that he has become an all-round transport specialist. At the height of the pandemic, he got a chance to take on bigger tasks, an experience he cherishes. He is now ready to take on a bigger role and even more importantly, to give back to the youth in his country. In his words, "If you have walked the walk, you will understand the path."
His advice to anyone interested in becoming a UNV: "You must be passionate and ready to embrace the journey. You also have to sacrifice, especially if posted away from home and are separated from your family." Being a people person, Paul easily made a family away from home, but he stresses that the experience is different for everyone.